Last week I mentioned that I'm a sucker for thrifted fabrics, and I find a lot of them at
The East Bay Depot of Creative Reuse
. I went and revisited my favorite store with Mr. Normally Original ( who uses his time there for calling his parents, very resourceful) this past weekend. I found some Ah-maxing stuff! Again! I also met the lady that sets up the fabric section, Diane. Super nice, and she says the word "y'all " with a southern accent. Immediately love her.
I found some great embroidery patterns from Jenni Hart of Sublime Stitching. I've been a fan of her patterns for a few years, so I was SO excited to find some that were previously loved!
Of course, I found some great new fabrics.
And there was this metal loom that may be the perfect present for some people we know, and some great notions, and an extra that Diane threw in for me because "it seems to fit your style."
Can I tell you that the total was under $10.00. *jumps for joy*
I'm linking up with two lovely ladies this week,
Harper's Happenings
and
The Blue Eyed Owl
! Check out their awesome thrift adventures!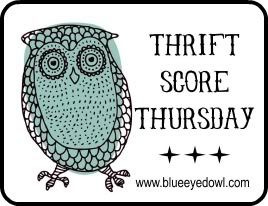 Onward urban thrifters. Go forth, and prosper.